Insignis Sophiae Arcator: Medieval Latin Studies in Honour of Michael Herren on his 65th Birthday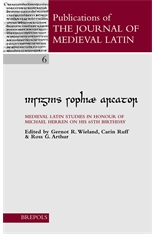 G. Wieland, C. Ruff, R. G. Arthur (eds.) Insignis Sophiae Arcator: Medieval Latin Studies in Honour of Michael Herren on his 65th Birthday (PJML 6)
Available through Brepols Miscellanea Online.
Some thirty years ago Michael Herren burst on the medieval Latin scene with his edition and translation of the notoriously difficult Hisperica Famina, and followed this a few years later with his translation of the prose works of Aldhelm. Notice was given that a junior scholar, unafraid to tackle some of the most obscure, complex, and arcane Latin, wished to make it accessible to non-Latinists as well as to those Latinists who lacked his particular skills. Not content with labouring alone in that field, Herren gathered scholars in Toronto to a conference on "Insular Latin Studies," the proceedings of which he published two years later. Over the years he shed considerable light on such obscure texts and authors as Virgilius Maro Grammaticus, John Scottus Eriugena, and the Cosmographia by the pseudonymous Aethicus Ister. His research trail led him again and again to Ireland, and the Irish contribution to early medieval Latinity and to English, Carolingian, and even Italian culture. Recognizing the rich diversity of medieval Latin, Herren in 1990 founded The Journal of Medieval Latin and has, as its editor, provided a home for medieval Latinists of all stripes.
The fourteen colleagues and former students who have contributed to the present volume wish to express their thanks to Herren for creating a venue in which medieval Latinists can come together, exchange ideas, learn from each other, and teach each other. In their careers, they have all learned from Herren who either supervised their theses or performed editorial magic on articles submitted to The Journal of Medieval Latin. The essays here gathered focus, though not exclusively, on the insular Latin of Ireland and England, as well as on some Irish centres on the Continent such as St. Gall. The Hisperica Famina, so strongly associated with Herren, though mentioned only in passing by some of the studies here, provides the half-line which was chosen as the title and the most suitable address to Herren: insignis sophiae arcator – "excellent teacher of wisdom."
Contributors to the volume are Gregory Hays, Haijo Jan Westra, Scott G. Bruce, Danuta Shanzer, Westley Follett, Bernice M. Kaczynski, Brent Miles, Jan M. Ziolkowski, Carin Ruff, Gernot R. Wieland, Charles D. Wright, Roger Wright, Greti Dinkova-Bruun; with a bibliography compiled by Paul Gerhard Schmidt.